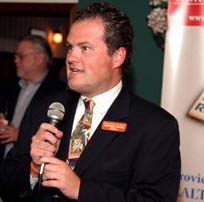 My path to real estate is odd, but it is one that benefits buyers and sellers in the new era of tech-enabled real estate.
After completing my MBA in marketing with an E-commerce concentration I started consulting for a small brokerage on how they could utilize the internet to assist buyers of second homes. The company grew 200% that first year – a good portion of that growth coming from buyers who had never heard of them until they did a Google search. I was hooked. From there a larger firm called, and within a few years I was the Vice President, implementing strategy and working with teams to help buyers and sellers make the most of the growing internet space.
Along the way I completed my training to be a licensed real estate professional in both PA and NJ, joined the REALTOR® Association in 2002 and in 2014 was honored to be named as President of my local board. Today I serve as the Treasurer of the Pennsylvania Association of REALTORS®, and was a graduate of the 2018 National Association of REALTORS® Leadership Academy. Helping consumers own a home and protecting the private property rights of existing homeowners is an important part of who I am.
With my unique experience and technology background (I have now launched more than 10 MLS-powered sites, built integrations with Zillow and Realtor.com and started my own real estate payments company called Sqaak). Whether you are buying or selling…I can assist anyone at any time and am also happy to introduce you to the hundreds of other amazing REALTORS® I know around the country.